Warm Intrigues- The Rendezvous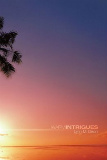 Chapter 1-The Rendezvous
When he called her at the appointed time, they agreed to meet at Leona's on Taylor Street because of its central location and quaint atmosphere. The ongoing music videos also served as a comforting backdrop during lively conversations. They almost said "Leona's" in unison as they talked about choosing a comfortable eatery in the heart of Chicago.
"Trey? Or should she say Tyre?" she asked again during his phone call.
"Call me Tyre, pronounced as 'tire,'" he answered.
All she knew is that he was a widower in his thirties. She was one of the first people whom he introduced by his given name and not his nickname, Trey. She was attracted to this college professor and was impressed by his intellect and good looks; but, she would let him share the details of his life—only when he wanted and what he wanted. 
He, in turn, had never met such a beautiful librarian when he initially met her at the Homewood Library. She was not only knowledgeable but also quite refined. He was used to librarians looking like the stereotypical ones, but not this one.
They had not shared too much during that second meeting at the beach, but he knew that she was a woman who had experienced her share of pain. He figured that a solo trip to the waterfront usually signaled that someone was in deep thought. He privately hoped that he would be around long enough to find out more about her. He figured most people in their thirties had had some knocks in life.
March 18, 2023